Jalal-Abad City Guide
All the best places to visit in Jalal-Abad city!
Jalal-Abad city is the regional capital located on the edge of the Fergana Valley and the foothills of Babash Ata mountains, close to the border with Uzbekistan. Jalal-Abad has a long history going back over 2,000 years as a rest point and market town along the Silk Road. Legend says that the city was named after Jalal-ad-Din who founded a caravanserai to house travelers, merchants, and pilgrims traveling through the region on their way to visit the holy mountain. Note: the suffix "Abad" means "town or settlement" in the Persian language.
In the late 19th century Jalal-Abad became a garrison town of the Russian empire and settlers from Russia began to arrive. You can still see hints from this period in some of the architecture. During the Soviet Union the city was developed further for industry and the city grew in size. This is also when sanatoriums and resorts were built for visitors to enjoy the local therapeutic mud and natural health treatments.
Although Jalal-Abad is now Kyrgyzstan's third largest city, it still retains a laid-back and relaxing feel. It's also quite multicultural as the population is a blend of primarily Kyrgyz and Uzbek people living amongst people of varied regional ethnicities.  This means that travelers have the opportunity to experience and learn about many cultures at once and see how this is reflected in traditions, dress, food, homes and more. You can see this all reflected in our Jalal-Abad city culture, food and local tours.
Even though many travelers transit through here on their way to other natural attractions, historical sites or treks in Jalal-Abad region, it's worth spending a day or more to walk its leafy streets, try out the city's sanatorium, immerse yourself in the local bazaar or take one of our local tours where you'll have ample opportunity to engage with locals. This Jalal-Abad city guide will help you enjoy your stay and better understand its culture, history and natural resources.
How to visit sites within Jalal-Abad city: Most of the places above are located in the city center (with the exception of the sanatorium and animal market) so you can either easily walk there or take a marshrutka (mini-bus) for 10 KGS.
If you would like a customized tour of Jalal-Abad city or any of the main natural attractions, historical sites or outdoor activities in the region, please get in touch with Destination Jalal-Abad and we can help you organize your trip. You can also check out the local tours page for more options on cultural, food and city trips.
Jalal-Abad City Places to Visit: Historical Sites, Markets and Sanatoriums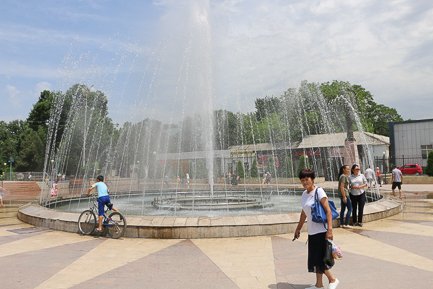 Jalal-Abad Main Square
The main square of the city is located right in front of the Regional Administration office, close to Toktogul Park. Previously, this square enjoyed the presence of a Lenin statue, like every other city in the Soviet Union. Today, the square has a statue of a local girl with a spike in her hands, symbolic of the nature of Jalal-Abad as an agricultural region. Address: Corner of Erkendik and Lenin Streets. (Location on Google Maps.)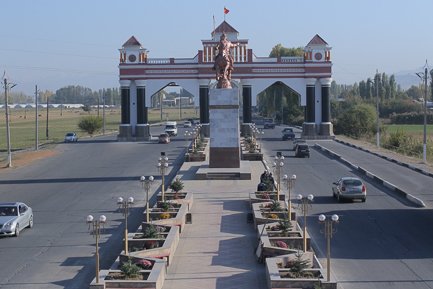 The Arch
This ornate arch symbolizes the entrance to Jalal-Abad city and to the region as a whole. It includes a monumental complex dedicated to Kurmanbek, a historical Kyrgyz hero from the 1500s. It is a popular place for locals to gather for weddings and to take photographs for other special occasions. (Location on Google Maps)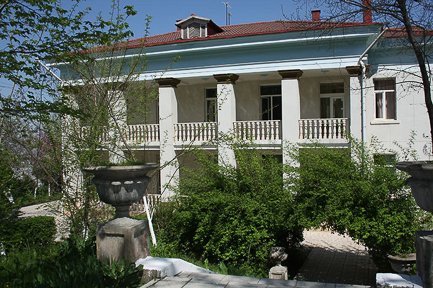 Jalal-Abad Sanatorium
Jalal-Abad city has been famous for centuries for its therapeutic mud and mineral waters, drawing visitors to the city for health treatments and relaxation. Located on the hills of the Suren-Tube ridge around 5km from the city center, Jalal-Abad Sanatorium is still popular today and is famous for its sauna and mud bath. Not only can you relax and rejuvenate there, but it also has a beautiful view of Jalal-Abad city below. How to get to the Jalal-Abad Sanatorium: take a taxi from the city center to the sanatorium in Korurt park for around 150 KGS. (Location on Google Maps.)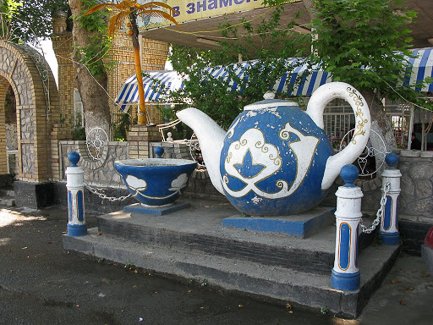 Traditional Chaikhanas (Tea Houses)
Chai, or tea in English, is not just an important drink to quench one's thirst. It also plays a significant cultural and social role throughout Central Asia. There is a longstanding tradition in eastern culture of people gathering for drinking tea in a chaikhana (traditional tea house), holding the piyala (cup) of hot tea in hand and discussing community matters together. One of the legendary and most popular chaikhanas in Jalal-Abad city is Madumar Ata chaikhana, decorated on the outside with traditional eastern tea pots and piyalas. This chaikhana also serves the popular Jalal-Abad manty (steamed dumplings). Address: Lenin Street in the Kairagach neighborhood. (Location on Google Maps)
Jalal-Abad Central Bazaar
Jalal-Abad has its own unique atmosphere formed primarily by the blend of the nomadic Kyrgyz and settled Uzbek cultures. One of the main symbols of this married culture is city's Central Bazaar, or main market. It is filled with people of both ethnicities and you can see this reflected in the foods and products offered. The market lanes are filled with the region's famous dried fruits and nuts, fresh fruit and vegetables, freshly baked hot tandyr bread (baked on the side of a tandoor oven), women selling golden jewelry, kymys (fermented mare's milk) and other national drinks straight from nearby pastures, local snacks, and thousands of other items that pique one's interest. Walk through the market lanes to take in the colors, activity and energy. This is also a good place to pick up dried fruits, nuts or other snacks if you plan to go on a trek elsewhere. Address:  Corner of Shopokova and Pushkina Streets (Location on Google Maps)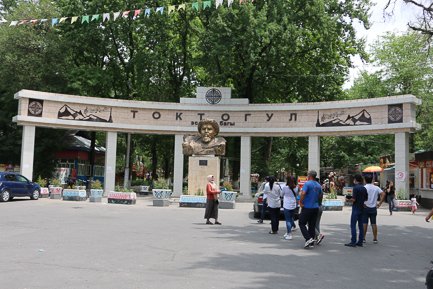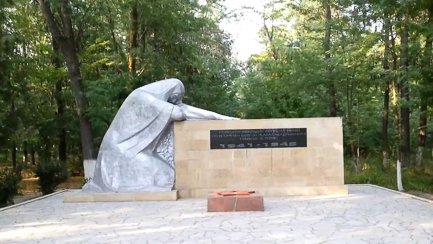 Toktogul Park and Pobedy Park
Jalal-Abad city has two main parks for resting and relaxing, both of which you'll often find full of local families and friends gathered together. Toktogul Park is named after the great local poet Toktogul Satylganov and is located here next to the Regional Kyrgyz Drama Theater (named after Barpy Alykulov). The second park, Park Pobedy, is located on Kyrgyz Republicasy Street and is named in honor of World War II heroes (the word PobedyI means "Victory" in Russian) and features a memorial statue in the middle of the park for those soldiers who lost their lives in the war.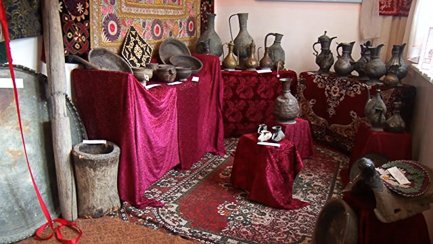 Jalal-Abad City Museum
The City Museum is filled with exhibitions about Kyrgyz culture and lifestyle, including historical artifacts from the first settlements dating back to 2nd century BC when the city was an important stop along the Silk Road. The museum is a worthwhile stop not only learn more about the city and the region's rich history, but also to understand modern-day traditions and culture. The museum is free to enter, but there is a donation box to help pay for its upkeep and its exhibitions. Please note that all information is in Kyrgyz and Russian languages, so it's best to visit with a guide to help translate.  Address: On the eastern end of Lenin Street near the crossing with Barpy Alykulova Road (Location on Google Maps). Opening Hours: Monday to Friday 08:30–12:00, 13:00–17:30 (Saturday & Sunday closed).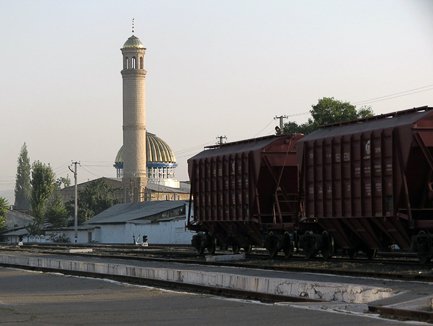 Jalal-Abad Railroad Station
Although the train no longer runs through Jalal-Abad you can still enjoy the city's railroad station and the different small local shops and traders located there. This historical railroad station was built in 1915 (but renovated in 1986) and was part of the rail network that connected Andijan, Uzbekistan to Kara-Suu and Jalal-Abad city in Kyrgyzstan. It is here where in 1920 the Soviet state figure Mikhail Frunze sent an urgent telegram to Vladimir Lenin. The telegram was about the fight with basmachi (local religious movement) in the Fergana Valley and unoccupied Belogvardeisy (White Guards). The Railroad Station (Vokzal) is in the south-eastern corner of the city (location on Google maps).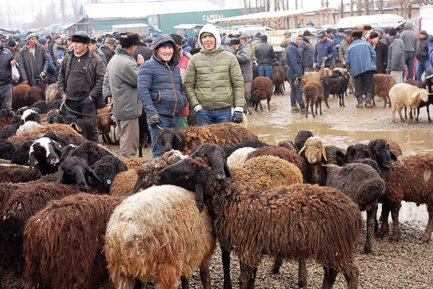 Saturday Animal Market
If you really want to get deep into local life and culture, then be sure to visit the Saturday animal market just outside the city. In the early hours of the morning huge herds of cows, horses, sheep and goats begin to flow into the market from different villages across the region. In addition to the scene of a huge number of animals all in one place, the trading process is worth observing as it features its own culture and code. Dramatic discussions and negotiations between traders and farmers unfold almost like theater. Be sure to arrive early for the best action. How to get to the Saturday animal market: The animal market is located north of the city across the Kugart River (location on Google Maps). Take a taxi from the center of town for around 150 KGS (one way).
Where to Stay: Jalal-Abad City Accommodation
Jalal-Abad city has accommodation options for every budget and style, from 4-star hotels complete with spas and full tourism services to simple family guest houses with delicious home cooked meals.
You can find a full list of Jalal-Abad city accommodation here.
Where to Eat and Drink: Jalal-Abad City Restaurants and Cafes
You certainly will not go hungry or thirsty in Jalal-Abad city as there is an ample selection of local restaurants, cafes and chaikanas (tea houses) to choose from. Many places serve local specialties like steamed giant manti (dumplings), plov (rice pilaf), and shashlik (grilled meat skewers), which together illustrate the range of local food traditions from Kyrgyz and Uzbek cuisines. You can also find international specialties as well.